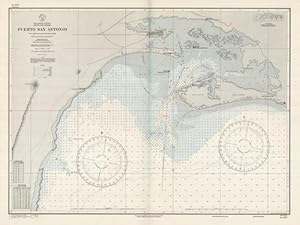 Bookseller Image
Argentina - Golfo San Matias - Puerto San Antonio
Publication Date:
Used
/
Quantity Available:
1
From
Art Source International Inc.
(Boulder, CO, U.S.A.)
Available From More Booksellers
View all copies of this book
About the Book
Bibliographic Details
Title: Argentina - Golfo San Matias - Puerto San ...
Publication Date: 1941
Description:
This coastal survey was printed by the U.S. Navy Hydrographic Office in Washington D.C. Details include the names of cities and waterways along the coast. Depth soundings are shown in fathoms. Other details that maybe included are lighthouses and buoy positions. Bookseller Inventory # 1567037
Bookseller & Payment Information
Payment Methods
This bookseller accepts the following methods of payment:
American Express
Check
JCB
MasterCard
Money Order
Visa
AbeBooks Bookseller Since: July 13, 2001
Bookseller Rating:
Terms of Sale: Please see our ordering page for all terms: http://www.mapsandprints.com/orderinginfo.cfm
Shipping Terms: Orders usually ship within 2 business days. Shipping costs are based on books weighing 2.2 LB, or 1 KG. If your book order is heavy or oversized, we may contact you to let you know extra shipping is required.
Store Description: These 25 years have passed very quickly with many changes occurring in map and print collecting. Our antique map and print inventory has increased from the first map we ever purchased in 1973 from a little shop in Boulder, to over 40,000 at last count. Art Source International has been buying and selling antique maps and prints for over 25 years. We currently own and occupy a 110-year-old building on Boulder's Historic Downtown Mall. This mall has become one of Colorado's major tourist attractions, with a multitude of unique locally owned businesses and a variety of street performers and musical entertainment. One of the most exciting parts of this business continues to be meeting people from around the world and talking about maps and prints. As the galleries have grown, so has our inventory. We continue to find maps and prints daily. Sometimes it takes up to one year to process material for sale. (We call this "aging"!) We tell our customers that the difficult part of this business is the buying and not the selling, which is just the opposite from most retail businesses. We enjoy what we do and hope you will enjoy your association with Art Source International. In the antique map and print sales arena it seems that the number of dealers who make the map business their only work has stayed relatively stable with a few coming and going. There are just a handful of dealers with retail shops in the U.S. In contrast however, I have noticed a sharp increase in the evening and part time dealers. These dealers are the core of the future of this business. It is with these dealers who are not tied to the traditional retail shop where you will see your new entries into the "I sell antique maps for a living" fraternity. In the map-collecting arena the changes have been abundant. New map collectors appear daily, with many of them being the very serious type. We get into the "how do I get started in map collecting" discussion with people in our shop almost daily. These new collectors will make an even greater impact on collecting than the prior collectors. Another major change in antique map and print collecting has been the drying up of the map and print supply. It is obvious that only so many were produced and they are not making any more. It is a case of supply and demand with the supply side being fixed and the demand side increasing on a daily basis. In any other business if you were running out of product you would order more. In this business you just can't call one of your many suppliers and replace sold inventory. In the map and print business the difficult part is the buying, the easy part is the selling. Map prices over these 25 years have had a very interesting growth pattern. With most maps the price growth has been very consistent. There have been no major ups and no major downs. Antique maps have not been treated as collectibles with the "feeding frenzy" of buying that we see in the collectible arena. Antique map prices have conservatively increased every year that we have been involved. Perhaps the difference has been that map collectors actually love what they collect and are not buying their maps with future resale as their only driving force. Map collectors know that replacing a sold map is difficult. Perhaps map collectors are just different! Our 25 years in the antique map and print business have been exciting and rewarding. We hope that you enjoy our web site. (Who said you can't teach old dogs new tricks!) As the web site evolves we are sure you will see many changes. If you don't find what you want on our lists please let us know what you want, and we will see if we can help you. Thank you, Art Source International
Portions of this page may be (c) 2006 Muze Inc. Some database content may also be provided by Baker & Taylor Inc. Copyright 1995-2006 Muze Inc. For personal non-commercial use only. All rights reserved. Content for books is owned by Baker & Taylor, Inc. or its licensors and is subject to copyright and all other protections provided by applicable law.

Portions of this page may be Copyright VNU Entertainment Media (UK) Ltd., 2006, Georg Lingenbrink GmbH & Co., Tite Live, S.A or Informazioni Editoriali S.p.A. All rights reserved.