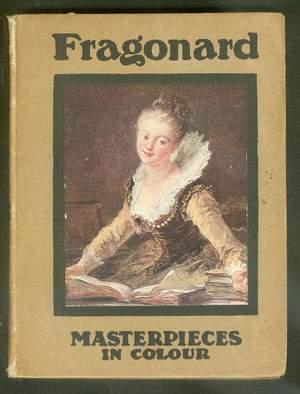 Bookseller Image
Fragonard: Masterpieces in colour.
Published by
T C & E C Jack / Frederick A Stokes Co.;, New York, NY, USA., 1910
Used
/
Cloth
/
Quantity Available:
1
From
Comic World
(Steinbach, MB, Canada)
Available From More Booksellers
View all copies of this book
About the Book
Bibliographic Details
Title: Fragonard: Masterpieces in colour.
Publisher: T C & E C Jack / Frederick A Stokes Co.;, New York, NY, USA.
Publication Date: 1910
Binding: Cloth
Illustrator: Painted Cover Art
Book Condition: Good to Very Good.
Dust Jacket Condition: Dust Jacket Included
Edition: FIRST Edition Hardcover.
Book Type: Hardcover
Description:
NO DATE = Circa 1910; 80 pages with illus. with eight reproductions in colour; (225 grams) >>> LIST OF ILLUSTRATIONS - (I). Chiffre d'Arnour - In the Wallace Collection; (II). The Music Lesson - In the Louvre = Plate is Missing; (III) L'Etude - In the Louvre = Plate is Missing; (IV). The Schoolmistress - In the Wallace Collection; (V). Figure de Fantasie - In the Louvre; (VI). Le Voeu a l'Amour - In the Louvre (new acquisition); (VII). The Fair-haired Boy - in the Wallace Collection; (VIII). Le Billet Doux - In the Collection of M. Wildenstein, Paris = Plate is Missing; *Still complete for Reading & has 4 Color Plates, plus Color Cover plate intact; *** Books is Overall a nice G/VG, but with 3 of the 7 illustration Plates Missing; Bookseller Inventory # B574
Bookseller & Payment Information
Payment Methods
This bookseller accepts the following methods of payment:
American Express
Bank Draft
Cash
Check
JCB
MasterCard
Money Order
PayPal
Visa
Bookseller: Comic World
Address: Steinbach, MB, Canada
AbeBooks Bookseller Since: March 24, 1999
Bookseller Rating:
Terms of Sale: We take; Visa, Mastercard,& American Express; For CREDIT CARDS, we highly recommend sending information, split in to 2 or 3 separate E-Mail's, for safety; Send emails to = dsulipa@gmail.com (PHONE; 1-204-346-3674); **** We accept payment thru PAYPAL [NO need to WRITE first, just send payment to = dsulipa@gmail.com] >> DIRECT PAYMENT Sometimes saves us money, so that we are able to accept Surface shipping & often send AIRMAIL instead; *** We gladly accept MONEY ORDER'S or CERTIFIED BANK ... [More Information]
Shipping Terms: If shipping cost is enough to send by AIRMAIL, we do so automatically. To keep Shipping Costs as Low as Possible, we ship many packages every 7-10 Days from our Associate's US Postal Service PO BOX from Pembina, North Dakota USA.
Store Description: >> Mail Order since 1971; We have IN STOCK; 250,000 Mass Market PAPERBACKS, ALL types, 1940-1990's / 60,000 Hardcover Books, ALL subjects, from 1900-1990's / 250,000 MAGAZINES, ALL types / 1,300,000 COMICS, 1950's thru 2010, & some Older, with 95% of everything ALL Publishers & titles from 1960-2010 / 100,000 Vinyl LP Records / 40,000 7" Singles / 10,000 Music Cassette Tapes / 15,000 VHS Movies /20,000 POSTERS; Movie (50's-90's), Video store (1980's & 90's) & chain store types (70's-early 90's)/ VIDEO GAMES; Atari, Coleco, Intellivision, Nintendo, Super-Nintendo, Sega, Genesis, etc / Digests = Most Comic types, plus a selection of SF, Mystery & many Misc types] & MORE! >> 600,000 Pounds of inventory jam packed into an 8000 Square Foot Warehouse! So much material, we will NEVER get it all catalogued! BUT you can view our HUGE inventory lists at our website = www.dougcomicworld.com >>> SEND YOUR WANT LISTS! Please limit to SERIOUS WANTS & limit the number of items, to 25 or less most wanted items! Filling want lists takes time! We reply ASAP! Thank You]! **** ORDER Multiple Items ALL from one seller; (1) SAVE on POSTAGE; (2) SAVE TIME locating the items; (3) GET them from a RELIABLE source; (4) Receive Items PROPERLY GRADED by Condition; (5) Satisfaction Always Guaranteed! >>> MAIL ORDER since 1971, with OVER 25,000 DIFFERENT Satisfied Customers, with over 250,000 completed Orders! Mail Order Only, from our 8000 Square Foot Warehouse; (We have NO retail store); Experienced Mail Order Dealer (since 1971);
Portions of this page may be (c) 2006 Muze Inc. Some database content may also be provided by Baker & Taylor Inc. Copyright 1995-2006 Muze Inc. For personal non-commercial use only. All rights reserved. Content for books is owned by Baker & Taylor, Inc. or its licensors and is subject to copyright and all other protections provided by applicable law.

Portions of this page may be Copyright VNU Entertainment Media (UK) Ltd., 2006, Georg Lingenbrink GmbH & Co., Tite Live, S.A or Informazioni Editoriali S.p.A. All rights reserved.