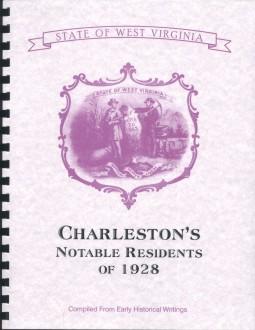 Bookseller Image
History of West Virginia in History, Life, Literature and Industry / Charleston West Virginia Biographies
Publication Date:
New
/
Spiral/Comb
/
Quantity Available:
3
From
A Plus Printing
(Tucson, AZ, U.S.A.)
Available From More Booksellers
View all copies of this book
About the Book
Bibliographic Details
Title: History of West Virginia in History, Life, ...
Publication Date: 1928
Binding: Spiral/Comb
Book Condition: New
Dust Jacket Condition: No Jacket
Edition: Limited Edition Reprint
Description:
We've gone through three volumes of West Virginia biographies and extracted over 190 of them to make this new 8 1/2" x 11"booklet. The biographies are for persons living in the City of Charleston, WV, during or prior to 1928. With 90 pages of newsprint-size type, it's obvious there's lots of detailed info -- ancestors, occupations, business enterprises, education, military service, siblings, spouse, children, honors, etc. The biographies were taken from West Virginia in History, Life, Literature and Industry by Morris Purdy Shawkey, published in 1928. The booklet is photocopied on 60# opaque paper with the parchtex front cover protected with a vinyl sheet. A booklet featuring biographies of Kanawha County residents living outside Charleston, and a booklet on the History of Kanawha County, compiled from 8 books, are also available. These, along with our other 400+ historical booklets, are listed on eBay at least once a month. Names include: Riner Gaither Altizer, Albert M. Belcher, George C. Backus, Reginald B. Blubaugh, Sherman H. Ballard, Frank C. Brown, Bruce E. Bartlett, Robert King Buford, Lanty E. Ballengee, Ernest H. Ball, Harry S. Barr, Homer W. Bowers, William W. Boggess, Frank C. Burdette, Valentine L. Black, Peter J. Biagi, Edward S. Bock, Elbert L. Ballard, Julian F. Bouchelle, Alvin J. Barnhart, Ashby J. Baker, Harless R. Campbell, Charles E. Copeland, William Edwin Chilton, John B. Crowley, Walter Eli Clark, Henry Stuart Cato, Willard F. Comstock, Augustus C. Carver, Frederick S. Casto, Frank B. Carpenter, Joseph E. Chilton, George Henry Caperton, Harold Blain Cornwell, George D. Cochrane, Vincent T. Churchman, O. Emerson Camp, Orus W. Dearman, John Quincy Dickinson, John W. Duff, Marcus L. Dillon, John S. Dana, Henry B. Davenport, James J. Divine, Edward T. England, Leonard S. Echols, Charles H. Enicks, James C. Fielding, Thomas G. Fletcher, Albert V. Fitzwater, Ralph J. Ford, James F. Frame, William F. Goshorn, Fred Paul Grosscup, Alvin J. Gearheard, E. Fred Gott, John Gass, George F. Grisinger, Charles W. Good, Henry D. Goshorn, Henry R. Glass, John W. Greybill, Ora E. Gay, Peter A. Haley, J. Howard Hundley, Cyrus W. Hall, Orville Hackney, Dane D. Hite, Grant P. Hall, Elliott R. Hatfield, Andrew J. Horan, Floyd H. Hieatt, John B. Hart, William T. Henshaw, Harold Houston, Marcellus Horn, Howard Dayton Hively, Harry A. Hall, Arthur Middleton Hill, Edward J. Handloser, Ritchie A. Ireland, Clyde Beecher Johnson, David A. Jayne, Howard S. Jarrett, Earley M. Johnson, Robert H.C. Kay, Charles E. Krebs, Edwin M. Keatley, Ray Kessel, Fred J. Kaufman, Arthur B. Koontz, Charles H. Kirby, Edward Dana Knight, Clarence W. Kemper, Florence Calvert Kuhn, Orris Kelley, Duncan C. Kennedy, Edward W. Knight, George S. Laidley, Robert W. Lilley, James Sansome Lakin, David Littlejohn, Gregory Loebach, Alfred H. Lea, William T. Lively, Robert M. Lambie, J. Brooks Lohan, Clayton E. McMillion, John C. McEldowney, Omar Morgan, Robert Hugh Martin, William G. Mathews, Harold S. Mathews, Harry L. Minsker, James B. Madison, Robert Kemp Morton, Braxton Miller, Charles E. McCoy, Linville C. Massey, Morris I. Mendeloff, Horace S. Meldahl, Hal F. Morris, Samuel F. McConihay, William Taulbee Moore, N William A. Nugent, Sterrett O. Neale, O. Othor Older, Charles O'Grady, Ben. Spotwood Preston, William L. Poling, William Dallas Payne, James Putney, F. Ray Power, Anton Pfaff, John A. Parsons, Walter Warren Point, William M. Peters, Jacob T. Pierson, John Patrick, Charles S. Paisley, Charles A. Ray, Henry L. Robertson, Edgar A. Reid, Claude N. Rucker, Edward H. Russell, Joseph U. Rohr, Gertrude M. Reynolds, Robert D. Roller Jr., Harold Arthur Ritz, Delbert T. Robinson, Thomas E. Romaine, Harold W. Rose, Elmer A. Stone, Harry Scherr, David L. Salisbury, Leroy Swinburn, Boyd Blynn Stutler, Harlan Herbert Staats, Clarence P. Shirkey, Conrad Fisher Sayre, Frederick M. Staunton, Wilbur F. Shirkey, John Rollin Shultz, Walton S. Shepherd, Hiram F. Bookseller Inventory # 000236
Bookseller & Payment Information
Payment Methods
This bookseller accepts the following methods of payment:
American Express
JCB
MasterCard
Visa
Bookseller: A Plus Printing
Address: Tucson, AZ, U.S.A.
AbeBooks Bookseller Since: September 22, 2004
Bookseller Rating:
Terms of Sale: Read description carefully & inquire if anything is not clear. Money-back on any misrepresented item. If a book/booklet is defective or if the wrong item is delivered, please email us for a prompt replacement. Items sold by: Doug Rebok, representative of Barbara Rebok A Plus Printing 6742 E Calle Mercurio Tucson AZ 85710 doug@azarrow.com 520-303-0197
Shipping Terms: Orders usually ship within 2 business days.
Store Description: Azarrow offers reproductions of rare historical sources. Our booklets cover small areas usually a single county, making them an excellent resource for genealogists and interesting reading for the serious history buff. Much of our material, including our civil war material, is unavailable or nearly impossible to find anywhere else.