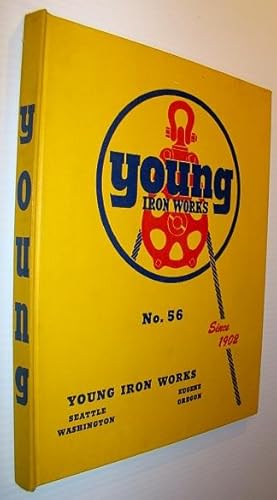 Bookseller Image
Young Iron Works Catalog No. 56 (Fifty-Six) - Logging Equipment, Blocks, Tools
Published by
Young Iron Works, Seattle, WA, 1955
Used
/
Hardcover
/
Quantity Available:
1
From
RareNonFiction, IOBA
(Ladysmith, BC, Canada)
Available From More Booksellers
View all copies of this book
About the Book
Bibliographic Details
Title: Young Iron Works Catalog No. 56 (Fifty-Six) ...
Publisher: Young Iron Works, Seattle, WA
Publication Date: 1955
Binding: Hardcover
Book Condition: Good
Edition: First Edition
Description:
89 pages. Index. A rare vintage copy of this famous vintage logging catalog. Profusely illustrated in black and white. Printed on glossy stock. Contents: Riggers' Blocks; Rig-up and Guide Blocks; Haulback Blocks; Utility Blocks; Head Trip Blocks; High Lead Blocks; Skidder Head Tree Blocks; Receeding Line Blocks; Transfer Block; Tail Tree Jacks; Loading Blocks; Single Tong Line Heel Blocks; Heel Book Tong Line Blocks; Sail Guy Block; Loading Jacks; Skyline Tree Jacks; Tightening Blocks; Guy Line Thimble Block; Moving Blocks; Yarding Blocks; Tractor Yarding Block; Fairleads; Skyline Carriages; Skyline Blocks; Slackline Carriage; Fall Blocks; Squirrel Block for Pine Logging; Rafting Blocks; Suspension Carriages; Yard Carriages; Diagram of Three Line Installation; Diagram of Two Line Installation; High Lead Diagram; Tractor Logging Diagrams for ground yarding, yarding with pan and yarding with arch; North Bend Tight Skyline Diagram; South Bend Tight Skyline Diagram; Slack Skyline Diagram; Skidder Diagram; Suspension (Tyler System) Diagram; Truck Mounted Jammer Diagram; Guy Line Loading Diagram; Double Tong Tree Boom Loading Diagram; Tree Heel Boom Loading Diagram; Crane Heel Boom Loading Diagram; Spreader Bar Loading Diagram; Spreader Bar Loading Diagram (Block Purchase); Crotch Line Loading Diagram; "A" Frame Loading Diagram; Reloading Diagram; Gooseneck Heel Booms - photo; Snatch Blocks; Tackle Blocks; Optional Hoisting Block Fittings; Hoisting Blocks; Special Blocks; Fall Blocks; Utility Hoist Blocks; Heavy Lift Multiple Sheave Blocks; Cargo Blocks; Heel Block Fittings; Deck Leads; Deck Lead Snatch Blocks; 2-point Heel Boom Grapple - with photos; 3- and 4-point Grapples; Photos of Heel Loading in action; Balanced Heel Boom Photos and specifications; Grapple Loading Package; Various Tongs - Loading, Pine Loading, Pine Skidding, Skidding, Piling; Tong Line Bumpers; Fid Hooks; Cup Point Loading Hooks; Crotch Line Swivel Hooks; Crotch Line Chunk Hooks; Spreader Bars; Crotch Line Clevises and Sockets; Trailer Lift Socket; Swamp Hooks; Coupling Hooks; Sling Hooks; Two Line Trip Hooks; Line Hooks; Swivel Line Hooks; Montelius Hooks; Self-Releasing Sling Hooks; Skidder Head Hooks; Skidder Second Hooks; Safety Latch Hooks; Line Hooks and Swivels; Crane Hooks; Hoist Hooks; Overhauling Weights; Tractor Hooks; Draw Bar Hooks; Yarding Bell; Ferrule Couplings; Choker Hooks; Choker Hooks and Swivels; Peters Choker Hooks; Butt Hooks; Butt Rigging Assemblies; Mainline Swivels; Rigging Assemblies - with diagrams; Clevises; Steel Wedges; Mauls; Aluminum Chain Saw Wedges; and more. Moderate wear. Musty scent - not too strong. Binding sound. Comprehensively and visually presents much of the contemporary state-of-the-art in northwest logging equipment and technique. A superb reference. Bookseller Inventory # 356G0192
Bookseller & Payment Information
Payment Methods
This bookseller accepts the following methods of payment:
American Express
Bank Draft
Check
JCB
MasterCard
Money Order
PayPal
Visa
Bookseller: RareNonFiction, IOBA
Address: Ladysmith, BC, Canada
AbeBooks Bookseller Since: December 13, 2001
Bookseller Rating:
Terms of Sale: Please call toll-free 1-877-660-6118 or email info@rarenonfiction.com to order today. We ship promptly in sturdy containers so your package will arrive safely. Digital images available upon request. Questions? Please ask. Misdescribed items fully refunded. Contact: +1-250-245-8959 or info@rarenonfiction.com. Mailing address: RareNonFiction.com, 13387 Code Road, Ladysmith BC V9G 1H7, Canada. We are Jim and Felomina Stachow. We look forward to serving you!
Shipping Terms: We pack securely and include free insurance with each shipment. Free tracking number included with most shipments. US orders shipped promptly from Washington state via USPS. We may request that GST or HST be added for orders shipped within Canada.
Store Description: RareNonFiction.com is located on beautiful Vancouver Island on Canada's Pacific coast. We specialize in the preservation of rare non-fiction books and magazines and are proud to have met the needs of thousands and thousands of global customers.