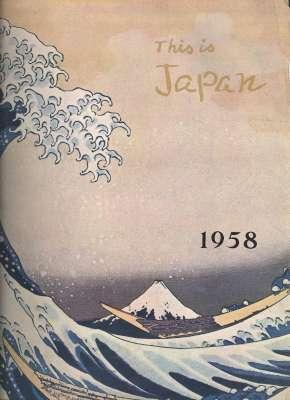 Bookseller Image
This is Japan : Number Five September 1958.[Picture Map of Nagasaki ; Battle of the Department Stores; Shippoku Cooking of Nagsaki; Modern Buddhist Temples; Behind the Kabuki Curtain ; Christianity in Japan, Today and Yesterday;]
Published by
Tokyo : Asahi Shimbun Newspaper Pub. Co., Toppan Printing Co., 1958, 1958
Used
/
Hardcover
/
Quantity Available:
1
From
Joseph Valles - Books
(Stockbridge, GA, U.S.A.)
Available From More Booksellers
View all copies of this book
About the Book
Bibliographic Details
Title: This is Japan : Number Five September 1958.[...
Publisher: Tokyo : Asahi Shimbun Newspaper Pub. Co., Toppan Printing Co., 1958
Publication Date: 1958
Binding: Hardcover
Book Condition: Fair
Book Type: Book
Description:
388 pp. : illustrated , portraits ; 33 cm. ; Folio ; Dewey: 915.2 ; OCLC: 25975538 ; stiff color pictorial paper wrappers with image of Hokusai Katsushika's Kanagawa-oki Namiura (Raging Billows off Kanagawa) ; articles by Fujita, Takeo, 1905-, Eric Britter, Tiltman, H. Hessell b. 1897, Richard Hughes, Shinjiro Tananka, Ernest Silver, Ito, Noboru, 1908-, Yoshida, Shigeru, 1878-1967 (?? ?)., Dreyfuss, Henry, 1904-1972, Guillain, Robert, 1908-, Yoshida, Kenichi, 1912-1977. (????), Glenn W. Sha w, Ilya Erenberg, Sakanishi, Shio,; 1899-, Pakenham, Thomas Compton, , Yuki, Ko, 1896-, Sawada, Miki, 1901-1980., Guro Kamiguchi, Yasusaburo Watanabe, Sano, Shigejiro, 1900-1987, Elizabeth B. Williams, Matha Nett, Donovan, Maria Kozslik, Samuel Bosw ell, Leon Picon, Yanagita, Kunio, 1875-1962 (?? ?? ), Kojima, Masajiro,; 1894-1994 (????? ) , Desmon Robins, Raymond, Antonin, 1888-, Fujioka, Michio, 1908-1988, Nakaya, Ukichiro, 1900-1962 (?? ???), Peter Robinson, Kawakami, Sumio, 1895-1972., John Campbell, Takamura, Kotaro, 1883-1956.(?? ??? ), Shingo Yamaji, Bunsho Jugaku, Suzuki, Shintaro,; 1895-1970. . Saito, Torao,; 1902-1971. , John T. Ishizaki, Takemura, Shosuke, 1943-, Shunji Shirazaki, Richard Hughes, Gwynneth Hawley, W P Fegan, Tais uke Kitamura, Hideji Yamazaki, Shigejiro Sano, Saito, Kiyoshi, 1907-1997 ((?? ), Takesuke Yamakawa, Masaru Fujibayashi, Fukutaro Yamazaki, Toshiro Miya, Kennosuke Takeda, Takashi Koike, Sugiura, Kohei,; 1932- , Kinji Inoue, Soyozo Watanabe, Tadao U jihara, Masao Kawauchi, Yasuro Urugawa, Ogura, Haruo,; 1928- , Ko Toda, Minako Usuki, Peter Robinson, George Y Somekawa, Bester, John, 1927- , Taizen Suzuki, Shigetaka Munetomo, and Shingo Yamaji ; Contents: Asahi's part in the Antarctic Expedition Chronicle 1956-57 -- Letters to the Editor -- The Influences of 'Southern Barbarian' Art in Japan -- Japan travel Bureau Expands Services -- Iron and Steel : A Success Story / Takeo Fujita -- Japan Makes Her Voice Heard / Eric Britter -- Japan's Dem ocratic Era / Hessell Tillman -- Honourable Bridge / RIchard Hughes -- Japan Discovers the Atom / Shinjiro Tanaka -- Japanese Fly Again / Ernest Silver -- 'New Education' Suffers Growing Pains / Noburo Ito -- Random Thoughts / Shigeru Yoshida -- Nor th and South -- 'The Word, I Think, is Shibui."/ Henry Dreyfuss -- Sorry, Kipling-san, The Twain DO Meet / Robert Guillan -- Japanese Culture?--What a Laugh! / Kenichi Yoshida -- Half a Lifetime in Japan / Glenn W Shaw -- Through a Soviet Writer's Eyes / Ilya Erenburg -- Japan : A Selected Bibliography / Shio Sakanishi -- A Walk with History / Compton Pakenham -- Korin Ogata -- Okyo Maruyama -- Christianity in Japan, Today and Yesterday / Ko Yuki, Mike Sawada -- The Forgotten Face of TIme / Guro Kamiguchi -- Time and the Animal World / Yasusaburo Tsukada -- Campfire in the Living Room / Shinichiro Watanabe -- Behind the Kabuki Curtain -- The Gentle Art of Sitting on the Floor / Shohachi Kimura -- Kimono Miscellany / Shigejiro Sano -- C hallenge to Silk Artists / Elizabeth B Willis -- Mud Makes a Luxury Fabric -- American Girl Finds Japan / Martha Nett -- Tristan Isolde and Sukiyaki / Maria Donovan -- Go North, Young Man! / Samuel Boswell -- A Guide to Sake-Drinkers / Leon Picon -- Rice : Mirror of Japanese History / Kunio Yanagida -- The Lunch-box Gourmet / Masajiro Kojima -- Folk-houses : North and South -- Self-Defence in Japan : The Throw, The Blow, Thw Know / Desmon Robins -- Religious architecture in Japan / Antonin Ray mond -- Modern Buddhist Temples / Michio Fujioka -- American 'Frontier' pioneering in Old Hokkaido / Ukichiro Nakaya -- The Quiet People / Peter Robinson -- Picture Map of Hokkaido / Sumio Kawakami -- Japan's Other Island / John Campbell -- My Life in the Mountains / Kotaro Takamura -- Picture Map of Hokkaido / Shingo Yamaji -- Iron and Inividualism -- From Bark to Paper / Bunsho Jugaku -- Japan's Ports - Past and Present -- The Shippoku Cooking of Nagsaki - Clay and Originality, etc; FAIR. Bookseller Inventory # 4738
Bookseller & Payment Information
Payment Methods
This bookseller accepts the following methods of payment:
American Express
Cash
JCB
MasterCard
Money Order
Visa
Bookseller: Joseph Valles - Books
Address: Stockbridge, GA, U.S.A.
AbeBooks Bookseller Since: August 17, 1998
Bookseller Rating:
Terms of Sale: TERMS: All items subject to prior sale. Returns accepted in same condition within 10 business days for any reason. PAYMENT: Cash with order. International orders require payment in U.S. funds drawn on a U.S. Bank or through an International Money Order. Libraries and institutions may defer billing upon our receipt of purchase order. 15 % discount for libraries and institutions. SHIPPING: All items shipped USPS 4th Class Bookrate unless otherwise arranged. 1st book $2.65, each additional ... [More Information]
Shipping Terms: Orders usually ship within 2 business days. Shipping costs are based on books weighing 2.2 LB, or 1 KG. If your book order is heavy or oversized, we may contact you to let you know extra shipping is required.
Portions of this page may be (c) 2006 Muze Inc. Some database content may also be provided by Baker & Taylor Inc. Copyright 1995-2006 Muze Inc. For personal non-commercial use only. All rights reserved. Content for books is owned by Baker & Taylor, Inc. or its licensors and is subject to copyright and all other protections provided by applicable law.

Portions of this page may be Copyright VNU Entertainment Media (UK) Ltd., 2006, Georg Lingenbrink GmbH & Co., Tite Live, S.A or Informazioni Editoriali S.p.A. All rights reserved.